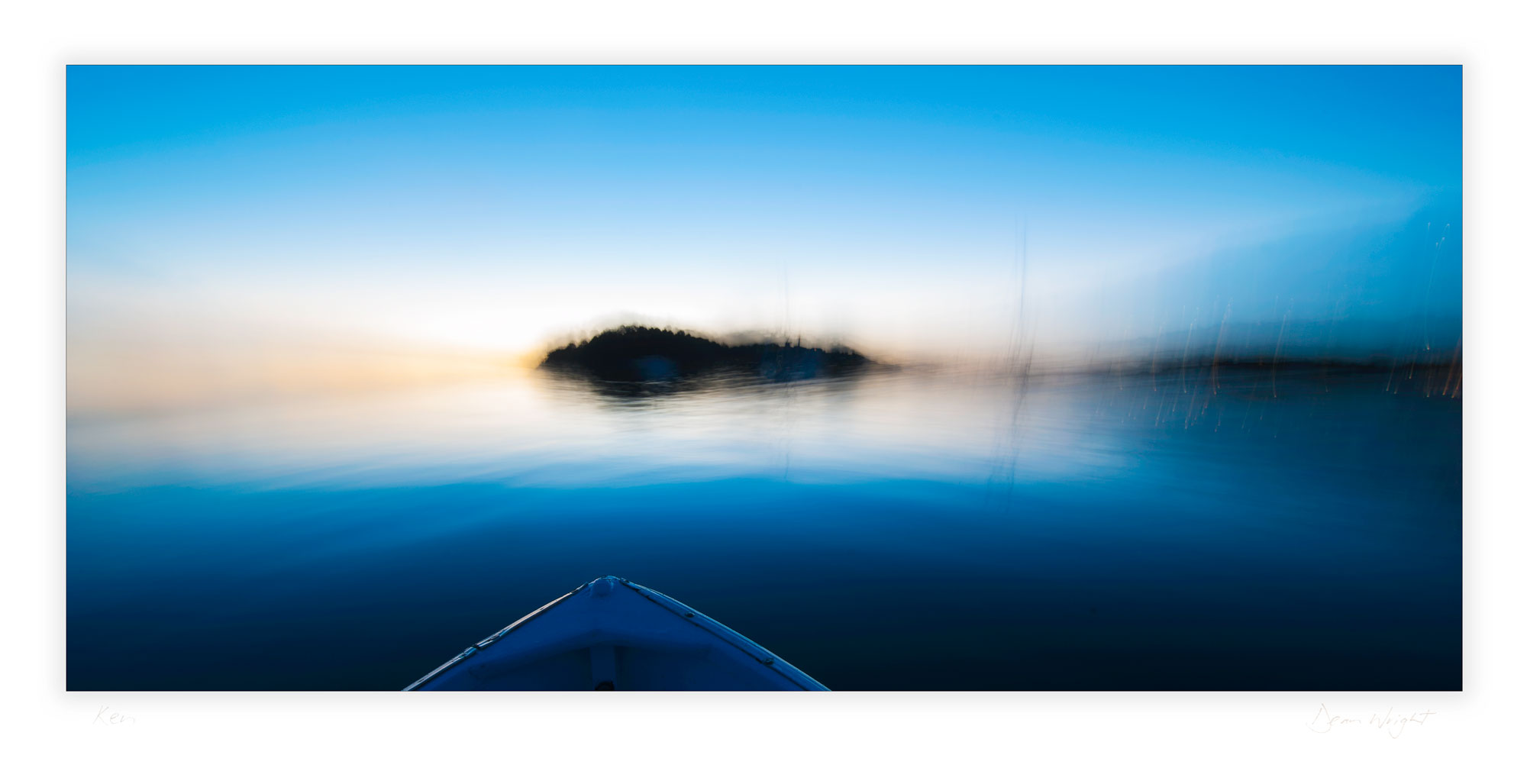 I love the blue light period. It starts in the western sky about 20 minutes after the sun goes down and you get 20 minutes or so of bright blue before it fades to darkness. The vibrancy of the colours keep me coming back again and again. Magical time to be on the water.

My dinghy's named Ken. That's his bow in the foreground. We're out for a row right on blue light time. The camera's on a tripod straddling the centre thwart and I'm down aft rocking him from side to side. What appears to be an island is Doves Bay Point, as we head towards the marina from Opito Bay. You can see a couple of masts of moored boats and the lights from the marina reflected in the water and sky on the right.

I took 20 odd long exposures before the light finished, rowing in circles, fast, slow, stopped and various magnitudes of rocking. This was the one I liked the most. Wonder if anyone was watching, crazy man in a dinghy.

Pricing:
A3 including postage within New Zealand - $235.00
A3 including postage overseas - $285.00
A2 including postage within New Zealand - $295.00
A2 including postage overseas - $355.00
Larger prints up to A0 are available, please contact me for a price

This email address is being protected from spambots. You need JavaScript enabled to view it.

30 day satisfaction guarantee. If you're not happy on receipt of an artwork, return it in orginal condition for a full refund
I print on archival standard Hahnemuehle Matt Fine Art Paper 308 gsm using Epson archival K3 inks
A2 - 594 x 420mm | A3 - 420 x 297mm
Each print is hand titled and signed
A2 and A3 prints are supplied inside a cellophane envelope with an acid-free cardboard backing board. They are then packed in cardboard for postage.
Larger prints supplied in tubes.
Pricing includes GST