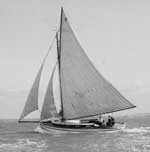 Arethusa ticked over 100 years in the water in September 2017. She started life as a gaff rigged cutter (right), built by Bob Brown (designer of the Z class) at Sulphur Beach, Northcote. She's carvel planked kauri, 33' 4" LOA with a 12' Beam. With the aid of a fair bit of ballast she weighs 10 tonnes. From what we've learned, she's had an interesting life. If anyone has any good Arethusa stories we'd love to hear them.
Sailed to Fiji by Hereward "Pick" Pickmere
She was owned for 12 years by Hereward Pickmere who produced the charts in the renowned Pickmere's Nautical Atlas. He sailed her up to Fiji in 1931 doing charting work around Fiji and the Yasawas. Back in New Zealand he did some of the initial charting work for the Pickmeres Atlas from her.
Grounded and converted to a launch
While being sailed from New Plymouth to Nelson in 1955, she hit a storm and ended up grounded on Farewell Spit. Salvaged, her keel was removed and she was converted to a launch. She worked out of Nelson scalloping and tuna long lining until 1998.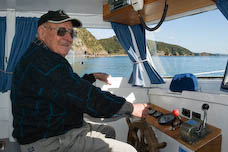 Retired from commercial work
She was given a major birthday and retired from commercial work by new owner Denis Knight in 1998. He removed her fish hold and deck gear, putting her back in the water 4 tonnes lighter. Denis sold her in 2001 since then she's lived in Tauranga, Tapeka Point and Coromandel. We bought her in 2007 and she's now moored in Opito Bay in the Kerikeri Inlet.
Back onboard seventy years on...
Lloyd Rowsell (88) at the helm of Arethusa August 2007. He was last onboard as an 18 year old, 70 years ago.
Download "The Voyage of the Arethusa"
Chapter from "Little Ships of New Zealand" (5.2mb)


Download "Pick's Arethusa - Is She Still Sailing"
By Paul Titchener, Boating New Zealand August 1987 (3.4mb)


Download "Arethusa A Yacht Of Many Lives"
By Tracey Neal, Boating New Zealand Sept 1987 (1.6mb)