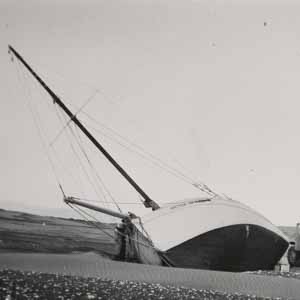 Deb and I were down south recently and did the Farewell Spit Bus trip. The tour operators were able to tell us approximately where Arethusa ran aground all those years ago, amazing.
They dragged the boat to the other side of the Spit and relaunched her, about 1.2km's!
An excerpt from a book in the Lighthouse keepers house: "She was sailing between New Plymouth and Nelson and the crew thought they were heading between the lights of Farewell Spit and Stephen's Island when they ran aground. Obviously they mistook the light on Cape Farewell for that on the Spit, and, as the Cape Farewell light had only gone into operation in 1951, they may have been unaware of its exisitence."
If anyone has any more detail of her time in the South Island we'd love to her from you.